Netflix's Squid Game: Is this a Game or Real Life
The critically acclaimed show, Squid Game hasn't even been out for a month and it is the most watched Netflix series in dozens of countries. According to Frank Pallotta, a CNN reporter, "The series is No. 1 on Netflix's Top 10 lists in 94 countries around the world. It's the platform's first-ever Korean series to reach No. 1 in the United States." 
Squid Game is Netflix's biggest series launch ever, and continues to do numbers, not only on Netflix, but on other media platforms such as Tik Tok and Instagram. Stated by an NBC News reporter, "On TikTok, '#SquidGame' has been viewed more than 22.8 billion times." 
Released Sep. 17, the Korean thriller takes the viewers through a series of nine gruesome, stomach dropping, mind-bending and emotional episodes that leave you wanting more. The show follows Seon-Gi-Hun played by Lee Jung-Jae, as he is on a morbid quest to win 45.6 billion won. He and 455 other contestants must follow through with what seems like six harmless childhood games. The players know there can be only one winner. What they don't know is that for the rest of them that means fatality.
Squid Game Executed on the Top 2 On Netflix Charts after being number 1 for a month
Netflix's co-CEO Ted Sarandos in an article shares, "It's only been out for nine days, and it's a very good chance it's going to be our biggest show ever." The show hadn't even been out for two weeks and was already doing incredible numbers. As of now, the show has been out for 32 days and has just recently moved to #2 after Netflix's You season three released Oct. 15.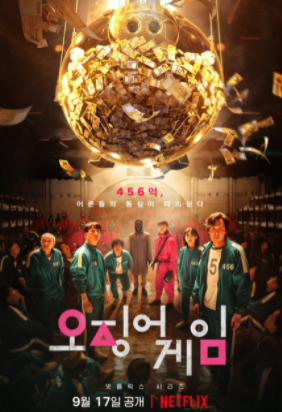 This show was articulated very well, had good detailing, and kept viewers interested through each episode. What hooked most viewers was how the plot suddenly switched from innocence to complete gore. The director, Hwang-Dong-hyuk did a good job gradually introducing the viewer to the main characters in the beginning and following through with their character development throughout the different games. This was emotionally devastating as well because in the end, there could only be one person that comes out alive. 
As far as details, the color and music from the show were greatly memorable. There are different musical pieces that are played through the show at different moments that adds variety and interest to the plot. The musical piece, "An der schönen, blauen Donau – Walzer, Op. 314" by Johann Strauss ll, is a recurring tune within the show that is heard in the most intense moments of the series. The color as well is chosen specifically to bring up intense emotions in the viewer and really put focus on other things going on around the actors.  
Although this show did excellent numbers, writers could have improved on keeping the quality of the plot the same from beginning to end. After the games were over, it seemed as if the writers let the plot go, and it wasn't as strong as it had been previously. There could've been more effort put into the overall ending, but there are hopes for that in a second season. 
I believe this show tells a story of capitalism and how it affects citizens. The greed of money is something almost everybody has, whether we admit it or not and Seon-Gi-Hun and the other 455 players all represent citizens and their lust for money. They all had a chance to walk away, but when they left, they realized that they still desired the money and quickly returned when they had the chance. A price was put over their heads and they were determined to win it.
Fans of Squid Game are so hooked on the show that they anticipate a second season; with that being said, there are some speculations as to if season 2 will live up to the quality of the first one.
View Comments (2)