Da Vinci Baristas: Open at Last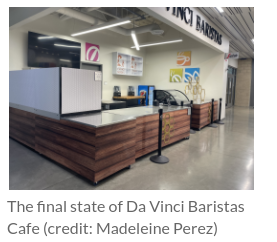 Da Vinci Baristas finally opened in May 2023. What had originally begun as a Da Vinci Design project under the Entrepreneurship pathway has now become a reality. 
The opening of the cafe has been anticipated for many months, so many students at Da Vinci were excited to explore the menu and taste of the food. Da Vinci Baristas currently offers a wide selection of items to choose from their menu, from regular coffee to more sophisticated blended ice drinks. Additionally, there are an array of snacks to choose from. 
The most important part of a cafe is the quality of their food and drinks. Isaac Treto, a senior at DVC and a coffee connoisseur, shared his opinion about the coffee roast that the cafe uses.
"From what I've known of the company and the coffee company, they do have a good roast because it's not over roasted as much per se. And I'd say it's perfect because they mostly deal with Arabica and Robusta, with Arabica being a sweeter type of bean and then the Robusta being the normal bean you think is more bitter and rubbery kinda. So I'd say overall, it was a good choice and the way they're running it for student run, I'd say it's pretty good so far," he said.
Not only does Da Vinci Baristas provide good quality coffee from roasts from Sega Fredo, but it also obtained an equipment deal. Treto explain more as to the details of the equipment agreement.
"Honestly, I think Sega Fredo gave [them] the best deal because they are doing what we do, which is leasing out the equipment. So basically, the school didn't have to pay for the equipment too much, because Sega Fredo makes their own equipment as well, so they able to lease it out to get a better deal on the contract for everyone involved," Treto revealed.
T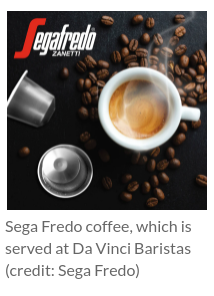 he leasing of the equipment helps lower the overall cost for the maintenance of the cafe. However, this does not necessarily lower the price of the food and beverages that are sold there. Vanessa Perez, a sophomore at DVS,  shared her disappointment in the pricing at the cafe.
"I was looking at the prices one day and I was like, dang, I might as well go to Starbucks than go to Da Vinci Baristas," said Perez. "I've never tried the coffee and I don't know if it's going to be worth my money in the first place."
Even though the price of some menu items might be a main reason that people prefer Starbucks over Da Vinci Baristas, there are some aspects that should not be overlooked. These include quality coffee, as well as proximity to school. However, the cafe does close quite soon for students, which Perez acknowledged.
"I feel like it's a little unfair. Because then only students from Communications would be able to get them or like some people who arrive to Design or Science early," she stated.
This complaint is understandable, since students who do not arrive early are not able to purchase anything from the cafe past 8:25 am. Even so, there is a reason for the early closing, which is stated by Angelique Marquez, a current college student and barista at the cafe.
"So that's when we serve a bunch of regulars like staff and teachers. [They] come during that time…  We're also preparing things for the next day. We're cleaning all that stuff. On Fridays, we actually do extend the hours for the students who go to Design…because they go in at later times," Marquez stated.
While the hours seem a bit exclusive for the majority of the week, there is still some flexibility and other logistics, such as cleaning, to be accounted for. Additionally, the shortened work hours allows for Da Vinci Barista staff to focus on other matters outside of work, as stated by Marquez.
"I really liked it so far. So it's really great. I'm actually only here for about four hours a day, from 7 am to 11 am. It's great personally for me [because] I'm going to school while I'm doing all this, so it's perfect. I don't really have to worry about my like work-life balance, and I still have time for myself, my hobbies and I really get to focus on school," she said.
While there are still some gimmicks along the way, Da Vinci Baristas has made an amazing start, from guaranteeing quality coffee, to flexible work hours for its employees. May the scent of coffee continue wafting through Da Vinci Schools.
Leave a Comment