Where is the DVC Class of 2023 Headed?
As the school year wraps up, seniors are on their way out the door as they finish their last few moments of high school. We wanted to memorialize these last few weeks by asking some of our classmates who have been with us for the past four years what steps they are going to take in life after graduation. 
As reported by California Community Colleges, nearly 2.1 million students are enrolled in Community College as of 2022. Community colleges are a great path for a lot of students, as they have financial and pathway perks most 4-year colleges don't typically offer. This includes  the TAG program or the South Bay Promise Program. DVC senior Angelina Dominguez is taking the community college route at El Camino College and then transferring to LMU.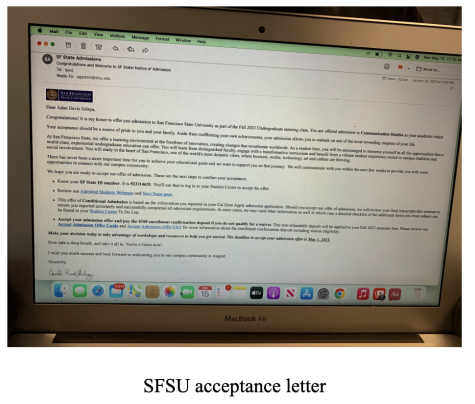 "I feel like I'm going to be more prepared when I go to LMU because I have more time to figure out what I want when I leave for college. There's also a lot more benefits especially having a program with my future college, such as expenses for my major being paid for when going to a [community college]," Dominguez said.
There are a lot of different paths the class of 2023 is taking. From going to colleges all around the United States to deciding to take a gap year or even joining the armed forces, DVC students are going to be dispersed all across the globe.

According to the Policy Analysis for California Education, the California Department of Education revealed that 63% of California students take the 4-year college route. Adan Davis Zelaya is a part of this percentage. He is going to San Francisco State University and he is excited to start a new journey. He spoke about his expectations for the future. 
"I've spent most of my life in Hawthorne, so I'm very eager to meet new people and make new experiences over in SF. I'm currently undecided, but I'll be taking my prerequsites as I figure out the major for me," he said.
As we can see, there is a variety of choices DVC students are making for their futures, including going out of state. Some students are considering alternative paths, including Amy Garcia who is leaving to the Marine Corps and will also be attending USC. 
"I came to that decision because I got a full ride," Garcia said. "I spoke with my chain of command and they told me to take the full ride…They were able to help me work around that and so I'm starting school in the spring."
According to Point Loma, "Attending college out of state can help students find new communities, friend groups, and relationships." For some students, a fresh start is exactly what they need to build a better future for themselves. 
Overall, the opportunities are endless and it all depends on the direction seniors want to take for how they will navigate their lives. As a school that sets up students for the next steps after graduation, the future is looking bright for DVC seniors. Go wolves!
Leave a Comment