Maternity Leave in the U.S.A.
Maternity leave is a time when women are able to take time off of work to take care of their newborn babies. This is a time when these new mothers are able to spend time recovering after childbirth. 
An article by BabyCenter supports this fact, stating, "Studies have shown that maternity leave is beneficial for both a mother and her baby – it's linked to lower infant and child mortality rates, increased initiation and duration of breastfeeding, better mother-baby bonding, and overall improved postpartum mental health."
According to GOV.UK, women are able to take up to 52 weeks on maternity leave, compared to the 12 weeks offered in the United States as acknowledged by the U.S. Department of Labor. Even though studies have shown that a lengthened maternity leave is the best option for both newborns and their mothers to stay healthy in the important few months after birth, many jobs in different countries do not enforce mandatory maternity leave by employers. According to VERIFY, following the United States, Papua New Guinea, Suriname, and five island nations in the Pacific Ocean including Micronesia, the Marshall Islands, Nauru, Palau, and Tong offer little to no maternity leave for women. 
This means that mothers are forced to go back to work before they feel physically and mentally ready. 
Deepti Reim, the teacher of the Marketing Pathway here at DVC, stated how her experience on maternity leave was and how her opinion has solidified after her time away from work. 
"As a mother and a teacher, I believe the U.S. should institute universal fully paid parental leave for at least the first six months of a child's life, with partial pay for at least the following six months," Reim stated. "This would help all parents develop a strong bond with their child and be able to support their needs and development during the first year of life, as well as recover from the demands of pregnancy and childbirth. Ideally, parents would be able to take additional paid leave if needed, but this would be a helpful start for everyone."
Childbirth is one of, if not the most, painful and exhausting experiences a woman can go through. When women leave their workplace to take time off, they are not only leaving to take care of their newborn but themselves as well. When left with no other option but to go to work or lose their job, the stress of going back too soon will be seen in their behavior and their work performance. Pattie Foxman, the front desk Administrative Services Manager at DVC, shared how her experience was taking time away from work to take care of her newborn.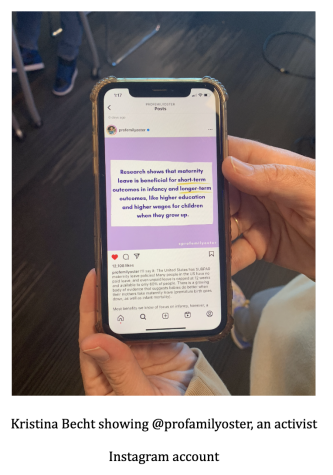 "I took about five months off to take care of my son," Foxman said. "I definitely believe women should have a longer time off when caring for their child, especially with how different it can be for different women. Some mothers don't necessarily heal as quickly as others, which just shows how much time is a factor when it comes to maternity leave."
Employers don't seem to care. In the United States, childcare costs around $20,000 a year on average, which is about half of a working mom's salary. In half of the states in the USA, full-time child care costs more than college tuition. DVC Algebra teacher Kristina Becht, who left for maternity leave for 4 months, stated her feelings on maternity leave in the United States. 
"The FMLA protects your job for six to eight weeks depending on the way you gave birth. This is just a protection, not a paid leave. Additionally, having to use sick days while on maternity leave really restricts the flexibility parents are given throughout the year," Becht confessed. "Especially with teaching being such a women-dominated profession, there are so many women that go on maternity leave that are not able to use their paid sick days after they return." 
Overall, maternity leave in the United States should offer higher benefits and longer time periods for parents to care for their newborn. As women go through a very eventful and life-changing time in their lives, their worries should never be focused on income and how much longer they have until they fear not being able to financially support themselves and their baby. 
Leave a Comment