The Killing of Tyre Nicholas
A young black man was mistreated and wrongfully killed by police in Memphis Tennessee during a traffic stop.
Tyre Nicholas was a 29-year-old black man who faced the harsh reality of police brutality. In Memphis Tennessee, Tyre Nicholas was stopped by Memphis Police Department for a traffic violation of reckless driving, which was never confirmed but soon led to him being brutally beaten by five police officers. 
Tyre was very passionate about skateboarding and photography. It was reported that he was out driving trying to catch the sunset to take pictures, but unfortunately never made it home. ABCNews reported, "According to Nichols' mother, Rowvaughn Wells, Tyre was 2 minutes away from his home when he was pulled over." 
Once Tyre was pulled over it was claimed that he tried to flee on foot from the police but they caught and detained him. Although police stated this, this allegation is still under investigation. According to The Marshall Project, "The officers never told Nichols the reason for the stop before they pulled him from his vehicle, shouted expletives and conflicting demands at him, chased him and beat him.
Memphis Police haven't been known for their perfect policing as of late. There have been many cases that raised the question of why so many officers' actions resemble unprofessional and improper training.
An article by The Conversation stated, "…police departments are experiencing significant changes to the three main variables in police staffing: recruitment, resignations and retirements." 
Due to the constant loss of staff, it seems police departments are eager to hire new workers in order to fill in for the ones previously lost. In the process of this, things get rushed and recruits never obtain proper training, which is now one of the causes of police brutality and the deaths of so many innocent civilians. Police Scorecard revealed numerical data on arrests in the United States.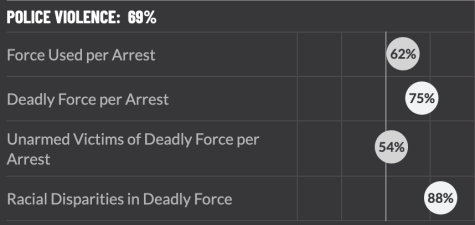 "[Out of] 288,706 arrests made– 57% of all arrests were for low-level, non-violent offences from 2013-21," the website revealed.
Excessive force and abuse of power are some of the larger issues at hand when looking at police behavior. In Nicholas' case, it was severe. All five policemen knew their bodycams were recording, simply didn't care, and continued on with their actions. They kicked him in the head, punched him in the face, threw him on the floor, and dragged him for well over three minutes, with the knowledge that their body cams were on. For a simple traffic violation with no resistance, this amount of force used was not necessary. Omar Saucedo, a…, shared his perspective on how he thinks the situation should have been handled. 
"I think they should've de-escalated the situation and got an understanding first before trying to get physical and using force to make the arrest because they approached him very aggressively and rudely which honestly isn't uncommon with police. Talking from experience, it's one of their biggest problems for real. It's a power thing," said Saucedo. 
In a statement made by the Memphis Police Department, they revealed, "Officers Tadarrius Bean, Demetrius Haley, Emmitt Martin III, Desmond Mills, Jr., and Justin Smith were terminated for failing in their 'excessive use of force, duty to intervene, and duty to render aid.'" 
These five officers have been fired from the department and charged with second-degree murder, but all have pleaded not guilty. Along with that three EMTs, Robert Long, JaMichael Sandridge, and Lieutenant Michelle Whitaker, were fired for withholding basic care to Tyre for 19 minutes when he clearly expressed and displayed signs that he needed it. 
Leave a Comment