Rain?! In Cali?!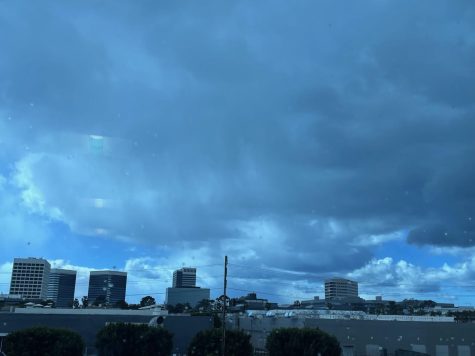 The amount of rain in California has been dramatically increasing as of late. Recent rain, hail, and graupel have raised questions like, "Is California still in a drought? What is causing this drastic increase in rain? Is this a good or a bad thing?"
There has been an unusually large amount of rain in both Southern and Northern California and it does not appear to be abating anytime soon. Although this water could help with the drought that LA has been experiencing for the past eight years, it will not be enough to fully eradicate the problem. Eleventh grade biology teacher, Lolita Go, who is also in charge of Da Vinci Communications' Climate Change Team, elaborated on this.
"The LA river has been very low, and when we get a new surge of water every two weeks, you suddenly have a huge amount of water running through the river and because of this constant drought we don't have the correct infrastructure to manage the amount of water coming in at once. So this water source ends up getting wasted and gets sent to the ocean," Go said.
Nevertheless, weather and climate have both changed dramatically, putting countless lives in jeopardy. Heat is one of the most dangerous weather conditions. Hurricanes are becoming more powerful and wetter as ocean temperatures rise, which can result in increased mortality. Fires are more likely in dry weather, which is hazardous to the health. Flooding on a regular basis can increase the risk of chemical exposure and waterborne illnesses.
Climate change is having a significant impact on ecosystems and species, with the Arctic being particularly vulnerable due to twice the average global  warming. This has resulted in twice the average amount of glaciers and ice sheets on land melting. Due to thermal expansion, sea levels are rising, and changes are occurring in the ocean, where the water is becoming more acidic. This is causing coral bleaching, stronger hurricanes, and sea level rise, to name a few environmental changes. Many species call coral reef ecosystems home, and they rely on them to survive.
LA's infrastructure is extremely important because it promotes healthy, vibrant, and resilient communities. Economic growth, education, and other services all rely on smart, dependable infrastructure. Like a house or an apartment, good infrastructure necessitates maintenance, which is costly and often difficult to obtain from the very communities that rely on it.
Furthermore, things like roads, bridges, ports, electrical grids, broadband internet, and other components of transportation and communication networks are examples of physical infrastructure. Although it is frequently designed to last for many years, if not decades, it may still be vulnerable to climate change. Intense temperature or weather changes can put a strain on already-built structures and facilities. Flooding caused by heavy rain can cause major commercial centers to close and traffic delays on major routes. In fact the National Oceanic and Atmospheric Administration revealed the ways that the United States will be burdened by climate change.
"Nearly 40% of the US population lives in coastal counties, meaning millions of people will be impacted by sea level rise. Coastal infrastructure, such as roads, bridges, water supplies, and much more, is at risk. Some communities are projected to end up at or below sea level by 2100 and will face decisions around managed retreat and climate adaptation. Resilience education is essential for city planners, emergency managers, educators, communicators, and all other community members to prepare for climate change," they wrote.
Leave a Comment