A Taste of Persia in LA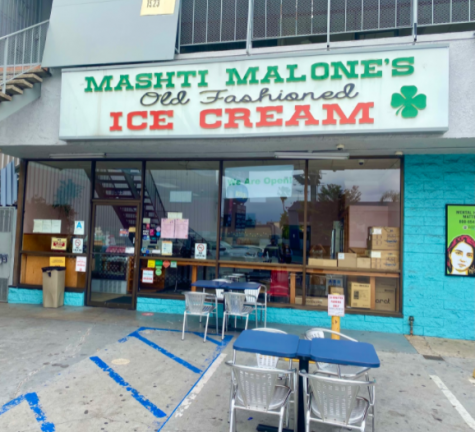 Mashti Malone's Ice Cream Shop in Hollywood. Xochitl Marin/ Vitruvian Post. 
Looking to try new things in Los Angeles can be one of the easiest things to do with the diversity the city has. LA is one huge melting pot, where you can go to Chinatown for some nice hot and sour soup and the next day go searching for an Armenian restaurant you found while scrolling through social media. If you've somehow ran out of ideas of what to try next, head to Hollywood to try some Persian ice cream. 
Mashti Shirvani ice cream shop, Masthi Malone's Ice Cream has been in business for over 40 decades, leaving customers satisfied with flavors ranging from Persian Cucumber to classics like Rocky Road. 
After my afternoon visit, I can without hesitation say I'm among those happy customers that frequent Mashti Malone's. 
Being a curious person, I love experiencing new things and trying new foods I've never heard of. This curiosity drove me to try the unique flavors at the ice cream shop to get the full experience.
A staple flavor Mashti has to offer is the "Saffron Rosewater with pistachios". I'm a sucker for pistachios but I had never tried saffron nor had an idea of what it tasted like so I was quite intrigued to see how well it would pair with from the nutty pistachio. After my first spoonful, I was in for a delightful treat.
Going in for the first taste, I was met with a tasteful floral aroma and flavor thanks to the saffron and rosewater. The nutty flavor from the pistachios helps balance out the florals that now dance on your taste buds.
With the saffron being imported right from Shirvani's home country, Iran, it delivers a lovely, unique, natural tasting ice cream you can't get anywhere else. It's a must try!
For those with a sweet tooth and want to stick to trying the Persian flavors, I suggest the "Date" ice cream. It gives a nice, sweet flavor reminiscent of the caramel notes of brown sugar that doesn't cloy the taste buds. Even if you aren't a big fan of dates, the ice cream is worth a sample test. 
From floral flavors, to sweet, to classics, Mashti Malone's has a flavor for everyone, even coffee connoisseurs. "Turkish Coffee" is sure to become an instant favorite. I'm not much of a coffee person but I absolutely loved the flavor. It tasted like a fresh brewed coffee made from the freshest coffee beans. It delivers the pleasant bitter taste of coffee in a very soft, pleasant way that is complemented with sweet undernotes. 
If you are adventurous when it comes to food and sticking to what you know floats your boat, Mashti has anything from Cookies and Cream, Mint Chocolate Chip, and Strawberry. An honorable mention is "Chocolate Fudge Brownie". 
I'm not a fan of chocolate ice cream (ludacris i know) but this chocolate fudge brownie made the cut. The best part was the fudgy brownie chunks you get with each spoonful. 
While the ice cream is the main treat, there are other things worth trying while visiting Mashti Malone's. Whatever you do, do not miss out on the baklava! Being one of the best baklava I've tried, it was a perfect balance of sweetness from the honey, flakiness from the filo dough, and crunch from the pistachios, my mouth is watering just thinking about it.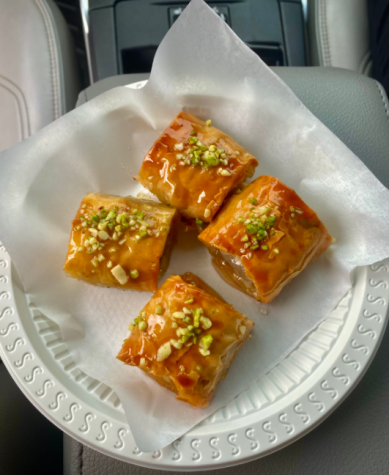 Baklava from Mashti Malone's Ice Cream. Xochitl Marin/ Vitruvian Post.
The next time you're out in Hollywood and get a craving for a nice scoop of ice cream, Mashti Malone's is the place to go!
Mashti Malone's Ice Cream | 1525 N. La Brea Ave., Los Angeles, CA 90028 | (323) 874-0144 | Sunday – Thursday 11:00 AM – 11:30 PM Friday – Saturday 11:00 AM – 12:00 AM | Small Parking Lot | Seating Area Outside | Mask Required | $5 – $26*
*To Go Gallon Size Price*
View Comments (1)
About the Writer
Xochitl Marin, Staff Writer
Xochitl is currently a junior at Da Vinci Communication and is a reporter for The Vitruvian Post. With the short time that she has been a writer for The...