Cross Country Team Reaches Finish Line of the Season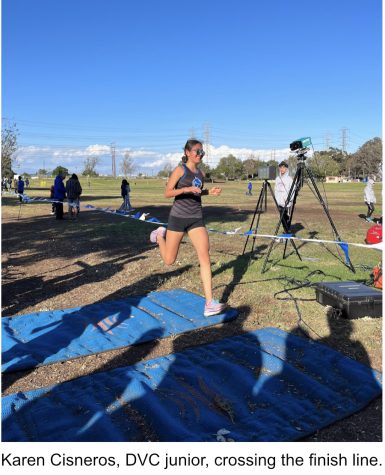 On Wednesday, Nov. 2, the Da Vinci Cross Country Team had its final meet of the season at Columbia Park in Torrance. Despite the torrential winds, many runners made new personal records.
The cross country runners have demonstrated a determination both inside and outside of their participation in this sport. Alani Flores, a junior at DVC and a member of the varsity team, mentioned that although she initially joined the team in 10th grade to stay in shape for soccer, she found a supportive community within the sport. 
"But cross country is really an outlet for me. It's an opportunity to release some of that stress," Flores said. "And the cross country environment is so good. Like every time you go there, even though it's a hard workout and you're tired and you probably want to cry because they're literally making you run, the people there make you excited to run."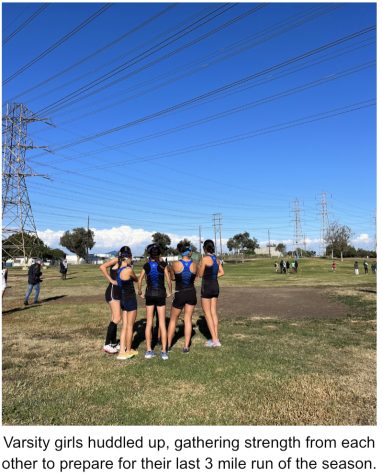 They all motivate each other on the team, instinctively cheering each other on without their coaches needing to tell them to do so. No doubt some of the stress that Alani referred to stems from having school responsibilities. The cross country athletes are exemplary role models when it comes to the way they balance their sport with school. Sophia Alexander, a DVC sophomore and varsity member, reflected on how she personally maintains her schoolwork on top of all the time she devotes to being a student athlete.
"If I have a meet coming up on Saturday, I will make sure I get all my work done–even if it's due like next week on Monday or Tuesday–I get all my work done to like Wednesday of next week, so I have nothing to worry about during Saturday, nothing to worry about like, 'Oh shoot, it's already Monday,' and I'm scrambling to get stuff done," Alexander shared.
Being on the cross country team comes with big commitments, like missing class to attend meets that drag on for hours and training five days a week. Steven Covelman, a teacher from DVC who also serves as the cross country team's head coach, provided insight into how they run their practices.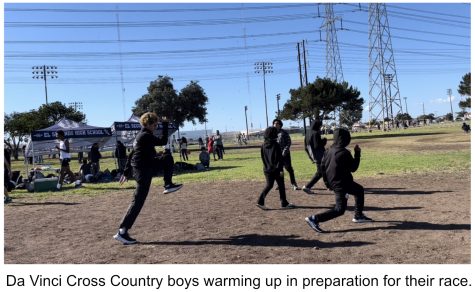 "We run earlier in the week for a bit of longer distances, that's more to get the endurance…Another way that we train, usually like one to two times a week, typically is through more speed type stuff. So these are shorter distances, but faster to help them get quicker. And then we usually also have a strength day, which involves weight lifting of some variety and a recovery day, which can often involve some deeper stretching and some light running and things like that," he said.
Although the training seems intense to outsiders, it helps the runners grow as both athletes and people. One of the two team captains of the 2022 season, Kaelee Weller, reflected on the growth she's seen from her teammates and how that invoked pride in her. 

"I've seen my teammates grow a lot in discipline. They started out very–for lack of a better word–goofy. They were very irresponsible and like all over the place," she said. "And then I feel like they really started to care about cross country a little more, and put in–like these are for the new and inexperienced runners–they started to put more effort in and care about the team and kind of start being like a family and a community, and I feel like that's been so beautiful to see."
This is the first year that the Da Vinci Wolves have been a part of a cross country league. Covelman shed some light on how being a part of a league has impacted the athletes.
"Because we're in a league, we can now compete for CIF and playoffs. I think it sets a new standard for our team moving forward…I've noticed that our athletes are really starting to rise to the competition a lot and getting a lot of their own personal motivation to want to reach those goals, and because of that, we're breaking a lot of records this year and seeing a lot of improvement in a lot of the runners." 
The runners have much to be proud of with the season coming to a conclusion. As a senior, this was Weller's last season competing with Da Vinci. However, as she came to terms with her lasts, she elaborated on the positives of the season and her hopes for the team as she moves on.
"There's so much more to cross country than just running and I think me realizing that and me putting in the effort and help in this community was something that made me really proud," she said. "Very happy to see how I've helped these people grow and how they're going to be the future of this team."
Leave a Comment