25 Years Without The Queen of Tex-Mex Selena Quintanilla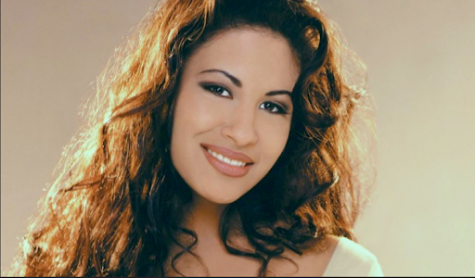 "Twenty-five years after her death, Selena still lives through her amazing legacy that is passed down through generations." (PC by Flickr)
Selena Quintanilla-Perez also known as the Queen of Tex-Mex, lives on through her songs and overall success as a singer. Although Quintanilla has been gone longer than she was on this earth, her memory as a beloved singer and icon continues to be passed down through the generations by the enduring love of her fans.
Quintanilla was born in Lake Jackson, Texas on April 16, 1971. Noticing her talent from a young age, her father Abraham Quintanilla was encouraged to start a band with Selena as the main singer along with his other two children A.B. and Suzette. Despite the fact that her first language was English, Selena's father advised her to sing in Spanish to better connect to her roots as well as appeal to the primarily Mexican-American population in Texas.
On March 31st, 1995 in Corpus Christi, Texas at the age of 23, Selena was shot in the back by her fan club president and close friend Yolanda Saldivar. Her death left the music industry, fans, and family to mourn her untimely passing.
Even though her life was taken too early, the Latinx community still remembers her through her music and legacy and still enjoys her amazing voice to this day.
With her known red lips, hoop earrings, and black boots, Selena remains a huge influence and icon of both music and style for this generation and young Latinx. Selena also has been a monumental inspiration for modern Latinx artists such as Mexican-American singer Becky G who sincerely admires Selena and recognizes her as a true inspiration.
"She was the epitome of everything that I needed growing up. That Spanglish life, a little bit of English, a little bit of Spanish. You don't have to choose," Becky told the Caller-Times. "I always say, I'm the 200 percent: 100 percent Latina just as much as I am 100 percent American. I shouldn't have to divide myself to live in both worlds."
Like Becky G, Selena has been a staple in the homes of many Hispanic and Latinx kids and a major influence on their lives growing up. What was special about her is that she was an inspiration for Hispanic women and paved the way for the Hispanic artists that are known today by becoming one of the most relevant Mexican-American entertainers of the late 20th century according to PBS.
"I think she influences the Latinx community by being one of the earliest Latin American to combine both American pop music and Latino heritage music into one style for a lot of Latino Americans," said DVC alumni Giovanni Leal.
In 1993 Selena won a Grammy Award in the category of "Best Mexican-American Album" for her album Live! in the 36th Grammy Awards., making the Latinx community proud.
In the 90s Selena released some of her most famous songs: "Como la flor" (Like the flower); "Amor Prohibido" (Forbidden Love); "Bidi Bidi Bom Bom;" including her English language hits: "Dreaming Of You" and "I Could Fall in Love With You" memorable songs that our generation still enjoys today.
"My favorite song by Selena. This is very hard, I don't think I could particularly pick just one but if I had to choose it would be "Dreaming of you" While it is one of her slower songs I do think it's one of her most meaningful," said Elizabeth Pech, a DVC alumni of the class of 2019.
"I think the way that the song is constructed and very much feels like a blissful feeling of unrequited first love," said Pech. "It's sweet and rosy but also has an undertone of intense longing and I think that's what I really love about it. I also think it's one of the first love songs I have ever heard so it holds a special place in my heart."
What is also admirable about Selena is the passion that she brought to every single performance. An example of this is her last concert in the Astrodome on February 26, 1995. , in which she wore her iconic purple suit. On that day, she delivered an amazing performance song by song filling out the stadium with her light of energy through her music. According to Fox 10, the Rodeo Performance was filled with an audience of more than 61,000 people breaking a record during its time.
"I think I'm most impressed by the energy she brought to each performance," said senior Lizane Salazar. "She managed to embody her songs so well and she was so young."
Selena, who today would be 49-years-old, left an important mark in the music industry and the Latinx community. It's important to not forget about her character, songs, and legacy.