"Fahrenheit 2022" Book Burning a New Reality in America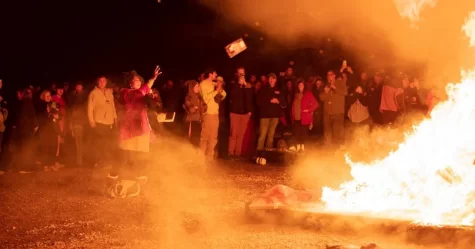 The burning of books is well known from either Ray Bradbury's "Fahrenheit 451" or 1940s Nazi Germany book burnings. Practices such as these are now becoming a common action taken by Americans in several states. With books being banned, taken, and burned from schools and libraries across America by new laws and book challenges. 
Books across America are being banned after being challenged, which is leading to a large removal of books from libraries and schools. State governments such as Tennessee and Texas and school boards around America are currently challenging books at alarming rates.
"Parents, activists, school board officials and lawmakers around the country are challenging books at a pace not seen in decades," said the New York Times, which expressed its concern about the speed of this new book burning craze. 
One live-streamed book-burning shown above was from a Tennessee pastor, Greg Locke, who invited his congregation to this book burning event, encouraging them to come to bring anything that's "demonic." Items such as tarot cards, ouija boards, and spiritual crystals were brought by the congregation. 
 "Bring it all. Stop allowing demonic influences into your home." The congregation then ended up burning books and other items they brought. Books like, "Harry Potter" and "Twilight" were the most common books being burned.
This book burning also came after the Tennessee County board voted to remove books like "Maus"– a book about the Holocaust– for reasons such as inappropriate language, according to the New York Times. Bad language and sexual content are a few of the reasons the books are being banned. 
"…removing books about L.G.B.T.Q. characters and books about racism was discriminatory, and harmful to students who may already feel that they are in the minority and that their experiences are rarely represented in literature (New York Times). said Jack Petocz, a 17-year-old student at Flagler Palm Coast Highschool. He represents many of the anti-book ban advocates who are protesting the book ban for not being represented in literature. 
The American Library Association's website lists the banned books year by year. With one book for 2020 is listed as "George" by Alex Gino, stating, "Reasons: Challenged, banned, and restricted for LGBTQIA+ content, conflicting with a religious viewpoint, and not reflecting 'the values of our community' "(ALA). Along with other reasons books like these are being banned across America. Books like, "All American Boys" by Jason Reynolds, "Speak" by Laurie Halse Anderson, and "The Hate U Give" by  Angie Thomas. All of these books on this ALA list are being challenged and most if not all being banned in some states and then burned. Only leaving a bad mark on the state's freedom of speech in America. 
"The 86 books on this list include content by or about people of color, LGBT people and/or people with disabilities," according to the American Library Association (ALA).
The banning/burning of books not only imposes on one's freedom of speech but also on a library and school workers who have been witnessed to quit their novel-related occupation out of fear. With one woman named Sarah Chase from Fort Worth, Texas interviewed by the Observer, "I got out because I was afraid to stand up to the attacks. I didn't want to get caught in somebody's snare. Who wants to be called a pornographer? Who wants to be accused of being a pedophile or reported to the police for putting a book in a kid's hand?"
Most if not all of these measures are targeted towards children and young teens who are in school. Which mostly ban books that contain themes such as LGBTQIA+ or gender identity which, in most cases, are read by teens. Also for children with books that introduce these themes as well as books like "Goosebumps" by R.L Stein being banned for "inappropriate language," according to the ALA
As the poet, Heinrich Heine said, "Wherever they burn books, in the end will also burn human beings." 
Leave a Comment